Výměna inkoustu není žádná věda. Přesto byste při výměně inkoustové kazety měli dodržovat několik praktických zásad, které vám pomohou vyhnout se zbytečným nepříjemnostem nebo dokonce až neúčinnosti tiskárny.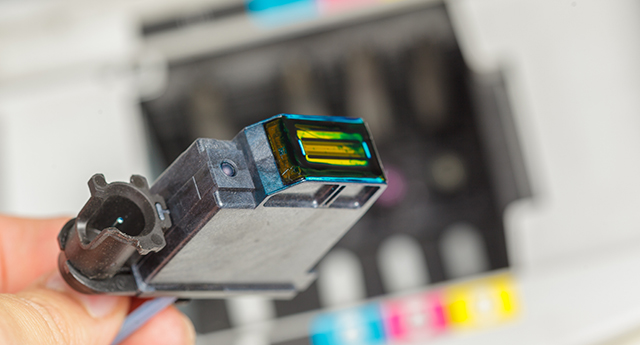 Jednat začněte už při signalizaci blížícího se konce náplně
Pokud vám začal blikat indikátor inkoustu, nemůžete se vymlouvat, že jste netušili o nízké hladině inkoustu v kazetě. U některých modelů tiskáren může končící inkoust signalizovat i indikátor chyb. Při nízké hladině inkoustu sice stále můžete inkoustovou kazetu nějaký čas používat, ale neměli byste čekat, než bude náplň zcela prázdná.
Pro toto doporučení existuje řada rozumných argumentů a týká se zejména tiskáren Canon a HP se samostatnými inkoustovými cartridgemi. Zařízení HP nebo Canon mají totiž tiskovou hlavu vestavěnou v tiskárně, takže pokud budete pokračovat v tisku s kazetou se spotřebovaným inkoustem, může snadno dojít ke spálení tiskové hlavy, resp. k poškození topných tělísek (rezistorů). Výměna tiskové hlavy není zrovna nejlevnější a v některých případech vás vyjde na tolik jako nová tiskárna.
A co z toho plyne? Pouze to, abyste při signalizaci končící inkoustové náplně neodkládali koupi inkoustové náplně na neurčito a objednali si adekvátní inkoustovou náplň hned po signalizaci tiskárny. Výměna inkoustu tak proběhne hladce a bez komplikací. V této souvislosti vás však chceme přece jen upozornit na jednu důležitou zásadu. Nevybírejte končící inkoustovou kazetu z tiskárny, dokud nemáte k dispozici náhradní. Zabráníte tím zaschnutí tiskového systému. Ucpání trysek v tiskové hlavě předejdete také vytištěním zkušební stránky.
TIP: Víte, jak správně vybrat náplň?
Zmínit je třeba i používání nevhodných náplní
Výměna inkoustu je spojena s otázkou, pro kterou náplň se rozhodnout. Inkoustové náplně s podezřele nízkou cenou mohou budit oprávněné obavy o kvalitu a nemusí mít optimální složení inkoustu. Tisková hlava s mikroskopickými tryskami tak může mít při pochybných alternativních náplních mimo jiné problém s hustotou inkoustu. Výsledkem může být nejen neostrý a nekvalitní tisk, ale v konečném důsledku i poškozená tisková hlava.
Použití originálních náplní se zdá být nejjistější cestou, jak předejít případným poškozením tiskárny, ale při kvalitních kompatibilních náplních také nejsou obavy o kvalitu tisku nebo o samotnou tiskárnu na místě. Kompatibilní náplně od renomovaných výrobců se po všech stránkách vyrovnají originálním kazetám, ale jeden rozdíl tu je.
TIP: Reklamace tiskárny – ovlivní ji použití neoriginálního toneru?
Výměna inkoustu si vyžádá dodržení několika zásad
Instalaci inkoustové cartridge do tiskárny provádějte vždy při zapnuté tiskárně a striktně při tom dodržujte postup určený výrobcem zařízení. Pokud z nějakého důvodu nemáte návod k obsluze k dispozici, pokuste se ho vyhledat na stránkách výrobce.
Výměna inkoustu si však bude vyžadovat dodržování dalších pravidel, které přispějí k bezproblémovému provozu tiskárny. Jednou z nich je aklimatizování náplně. To je samozřejmě aktuální v zimním období, takže na to nezapomínejte. Inkoustová kazeta je vybavena čipem a obsahuje tekutý inkoust, tudíž aklimatizací kazety na pokojovou teplotu předejdete vzniku kondenzátu a případnému poškození cartridge nebo tiskárny.
Důležitá je také manipulace s kazetou. Inkoustová kazeta je zpravidla vakuově zabalena pro zachování spolehlivosti. Obal inkoustové kazety proto otevřete až bezprostředně před instalací do tiskárny. Zabráníte tak znečištění nebo poškození trysek a jiných komponentů.
Pokud máte rádi věci pod kontrolou a inkoustové náplně si kupujete do zásoby, doporučujeme si přečíst článek, jak skladovat tonery a cartridge tak, aby vydržely co nejdéle?