O vizitkách se toho již skutečně napsalo mnoho. Více i méně navštěvované webové stránky řeší design dokonalé vizitky a radí, jak je máte přijímat nebo předávat. Zamysleli jste se ale někdy nad tím, která orientace vizitky je nejpoužívanější a jaké jsou její benefity nebo nedostatky?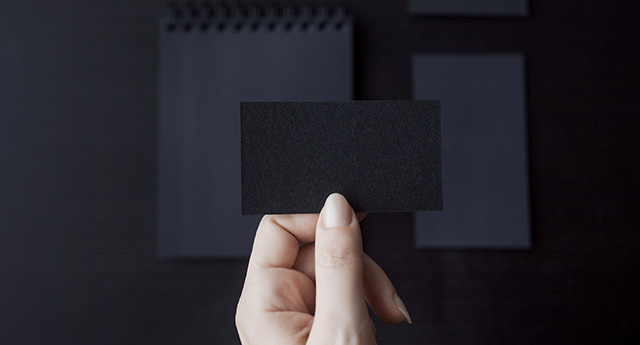 My jsme to udělali za vás a při surfování po internetu a různých diskusních fórech jsme se dopátrali k zajímavým zjištěním. Nejen předpřipravené grafické šablony online nástrojů upřednostňují orientaci vizitky na šířku, ale právě taková dispozice je žádaná i při tvorbě vizitek na míru. Důvody jsou prozaické a už teď vám můžeme prozradit, že konzervatismus s tím nemá nic společného, jde spíše o praktické hledisko.
Se sousedy toho máme mnohem více společného, než si uvědomujeme
Kromě kreativních vizitek s netypickými tvary a rozměry se u nás nejčastěji můžeme setkat se standardními rozměry vizitek 90 x 50 mm. Podobná situace je v sousedních zemích, kde se rovněž ve velké míře používají právě tyto rozměry. Na západ od nás, tedy v Německu, ale i ve Švýcarsku či v jiných zemích západní Evropy, je preferován tisk vizitek s rozměry 85 x 55 mm.
To je však pouze jedna stránka mince. Tou druhou je fakt, že minimálně u nás, ale s největší pravděpodobností i u našich sousedů, je nejběžněji používaná vizitka s horizontální orientací. Vizitka na šířku je tak osvědčenou klasikou, která zpravidla nikdy nic nezkazí nebo neurazí, ale na druhé straně je třeba přiznat, že obvykle ani neohromí. Naopak vizitka na výšku dokáže spíše zaujmout nebo dokonce až vyrazit dech. Jak se však zdá, schopnost vizitek s orientací na výšku zaujmout je příliš málo na to, aby v oblibě předběhla vizitky na šířku.
Vizitka na šířku nabízí více
Ve prospěch vizitek se standardním tvarem a orientací vypovídá několik výhod. Na vizitky na šířku se v pohodě dají umístit všechny podstatné informace včetně horizontálního nebo vertikálního loga firmy. Problémem nebude ani delší jméno či příjmení, pracovní pozice, údaje o firmě, kontaktní údaje nebo v současnosti preferovaný QR kód.
Přední strana vizitky může nabízet kontaktní informace, zadní strana může být kreativnější. To ale není zdaleka všechno. Tradiční tvar vizitek plně odpovídá etiketě, ale zároveň vyhovuje i rozměrům vizitkářů a stojanů na vizitky. U vizitek na šířku uspořádaných v pořadačích oceníte vynikající čitelnost a snadnou manipulaci. Při zvládnutém grafickém designu těchto vizitek se samozřejmě nemusíte obávat ani toho, že byste nezaujali. Důkazem našich slov je fakt, že vizitky na šířku si dává tisknout široké spektrum profesí. Zmínit můžeme lékaře, právníky, finanční poradce, ale i úředníky či řemeslníky.
Vizitka na výšku boduje spíše u kreativních povolání
Nad vizitkou na výšku také nemusíme lámat hůl. Vizitka má sice při umísťování informací jisté slabiny a nejednou ji musíte při čtení otáčet, ale jak jsme to už několikrát naznačili, dokáže překvapit nebo až šokovat, a proto i přes její "nedostatky" může být jako stvořená pro umělce nebo pro osoby pohybující se v marketingu.