Láká Vás začít kreslit trojrozměrné objekty? S 3D perem to bude pro Vás jednoduché! V našem článku se dozvíte jak správně ovládat 3D pero a bude z Vás profík! Zajímá Vás tvorba trojrozměrných 3D objektů, ale 3D tiskárna je pro Vás finančně nákladná? Máme pro Vás skvělého pomocníka!


Co je to 3D pero?


Jedná se o speciální pero, které umožňuje vytvářet trojrozměrné objekty. Zjednodušeně by se dalo říci, že se jedná o ruční 3D tiskárnu, která je sice jednodušší na provoz, jelikož jí není potřeba ji jakkoliv programovat apod., ale zároveň je méně přesná, protože nespoléhá na mechanická ramena, ale pouze na lidský faktor.

Pro koho a na co je 3D pero určeno?

Skvěle využitelné bude například pro kreativce s chutí tvořit trojrozměrné umění nebo pro odrostlejší děti pro rozvoj kreativity, ale třeba i pro kutily, kteří potřebují vytvořit jednoduchým způsobem 3D komponenty z rozličných materiálů, popřípadě potřebují ručně dotáhnout k dokonalosti výtisky z 3D tiskáren. Obecně se totiž dá říci, že se správně zvoleným filamentem lze vytvořit pomocí 3D pera téměř cokoliv, ale za cenu větší námahy oproti 3D tisku.

Princip fungování 3D pera:

Princip fungování 3D pera je v tom, že kopíruje klasické 3D tiskárny. 3D pero obsahuje nahřívací hrot kvůli filamentu, který skrze ní protéká a umožňuje jeho tvarování dle potřeby.
Po ukončení 3D tvorby je třeba filament z pera vytáhnout, aby v něm neztuhl, což by mohl být velký problém, stejně jako tomu je u levnějších 3D tiskáren. Kvůli nepřetržitému žhavení je potřeba 3D pero při práci nutné zapojit ke zdroji napájení, kterým je zpravidla klasická elektrická síť - respektive tedy USB kabel s adaptérem, který je do sítě zapojen. Dle typu kabelu je nicméně možné u některých per využít k napájení třeba i powerbanku, notebook a tak podobně, což z nich dělá s trochou nadsázky 3D tiskárničky na cesty.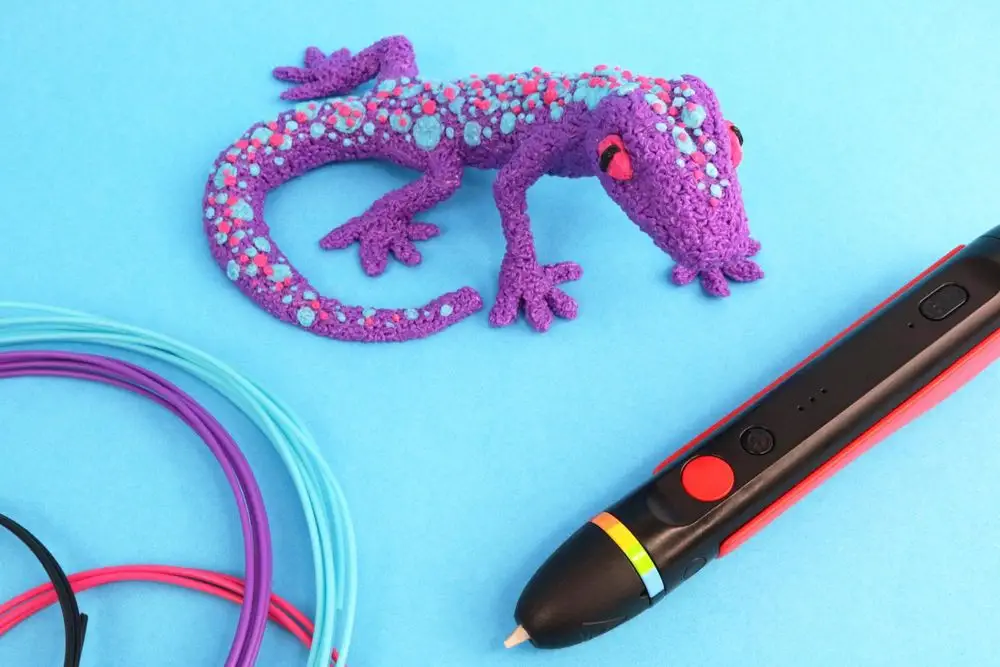 Jak vybrat 3D pero:

Při výběru hraje hlavní roli maximální teplota jeho nahřátí. Teplota určuje, jaké typy filamentu s ním bude možné používat a tedy ve výsledku i to, co s ním půjde tvořit. Nejdůležitější je na začátku vědět co chcete tvořit a jakou teplotu budu potřebovat.


Klíčové vlastnosti:
Snadné vytváření 3D modelů i bez tiskárny a počítače

Tři druhy barevných vláken s možností dokoupení dalších barev

Jednoduché ovládání s možností nastavení rychlosti tisku


Ergonomický design vhodný pro praváky i leváky
Poslouží k tvorbě nových modelů i opravě plastových předmětů 

Pro začátečníky jsou k dispozici speciální šablony, které lze stáhnout na www.polaroid3d.com.
Denisa z CDRmarket.