Podlahy, stěny nebo nakládací rampy - označovací pásky se dají využít opravdu kdekoliv. Jsou ideální k označení intenzivně zatížených komunikací a pruhů na převážení palet či barevné identifikaci potrubí. V poslední době se však nejčastěji používají k vyznačení potřebných rozestupů a dalších ohraničení v rámci dodržování protipandemických opatření. Dnes si přiblížíme, jak na to.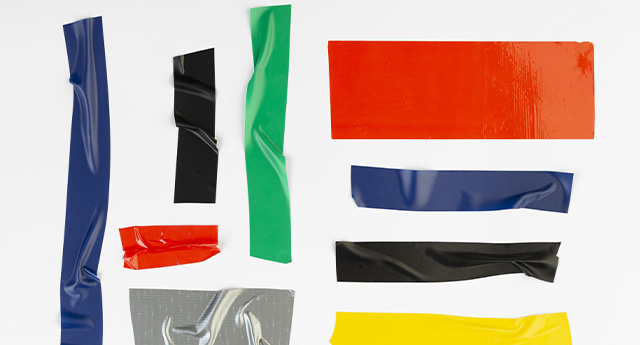 Jak na správné označování vymezených prostorů
V současnosti se stala realitou potřeba minimalizovat riziko nákazy koronavirem prostřednictvím dodržování hygienických opatření. Patří k nim mimo jiné dodržování požadované vzdálenosti, přičemž se výborně osvědčila vyznačovací páska. Speciální barevná podlahová páska je jako stvořená k označení doporučených rozestupů nebo vymezení oblastí se zákazem vstupu.
Pro maximální spokojenost s trvanlivostí aplikované podlahové pásky je vhodné dodržet několik zásad. Aby vyznačovací páska na zvoleném místě dobře držela a neodlepila se, je třeba nejprve povrch podlahy důkladně vyčistit. Po aplikaci pásky zase doporučujeme použít stěrku nebo jiný adekvátní nástroj na optimální přilepení a vyhlazení povrchu pásky.
Podlahová páska je k označování jako stvořená
Vyznačovací pásku na podlahu lze použít na dřevo, laminát, dlaždice nebo PVC kdekoliv ve veřejných prostorách. Doporučujeme ji aplikovat na zem zejména na místech, kde se tvoří řady a kde dochází ke shromažďování klientů nebo zákazníků. Její použití je velmi jednoduché. Vzhledem k tomu, že podlahová páska disponuje dostatečnou poddajností a flexibilitou, můžete ji aplikovat v potřebných křivkách a obloucích, jak to vyžaduje daný prostor. Podlahová páska se vám osvědčí i při označování uliček, diskrétních zón a požadovaných rozestupů.
Jednoduše s ní vyznačíte bezpečnou vzdálenost v čekárnách a na úřadech, odstup od okének s lístky, od pultů či pokladen. Podlahová páska je rezistentní a funkční, vyznačuje se snadnou instalací, vysokou odolností a dlouhou životností. Při instalaci stačí, pokud tahem odstraníte fólii a pásku jednoduše nalepíte tam, kam potřebujete.
Jednoduchá aplikace a lehká údržba
Často se stává, že označení, které jste nedávno s pomocí podlahové pásky udělali, je třeba pozměnit nebo dokonce úplně odstranit. Díky speciálnímu lepícímu systému se naše vyznačovací pásky dají odlepit od povrchu, aniž by po nich zůstalo lepidlo. To je důvod, proč dokonale vyhovují rychle se měnícím podmínkám. Kromě toho se vyznačují dalšími příznivými vlastnostmi, jako je například vysoká tepelná odolnost (až do 60 °C), jakožto i odolnost vůči vlhkosti a UV záření.