Print colour labels in different sizes at your home, business or office? With Epson ColorWorks, it's easy. And with a wide range of consumables - both refills and print media (papers, vinyl and more), it's really easy to print just pretty much anything.


The Epson ColorWorks C3500 printers are suitable for customers who want to print colour labels such as packaging labels with a colour logo and image, tickets and ID cards with a barcode, or product information labels.

Money saving

With separate pigment ink cartridges, this colour label printer is ideal for reducing printing costs. In fact, you only need to replace one spent ink.
Easy to use
You can easily print on a wide range of materials, including matte and glossy coated paper and transparent labels. This means you can print exactly the type of label you need. The LCD display shows ink levels and printer status information. Easy to set up software allows you to operate the printer without specialized training.
Why to buy Epson ColorWorks C3500?
Durable prints. Long-lasting pigment ink
High print speed. Label printing speeds up to 103 mm/sec
Matte, glossy paper and other media. Print on a wide range of media
Easy to use. LCD display with ink and printer status
Cost saving. Separate ink cartridges
Epson ColorWorks C4000 printers are compatible and easy-to-use desktop printers with enhanced connectivity and increased flexibility. The printers are suitable for small to medium print volumes. They offer glossy or matte colour printing.

Easy integration and connectivity


You can easily integrate and connect the C4000e to your existing systems. Drivers are available for ESC Label, Linux and Mac. Our new SDKs for iOS and Android make printing from a tablet easy and intuitive. Plus, they allow you to add an optional Wi-Fi hardware dongle to print from anywhere. Compatible with the ZPLII programming language.


Compact design and easy to use


The C4000e is a highly intuitive label printer that you can start using immediately. The large (6.9cm) LCD display makes it easy to use. Media rolls can be easily swapped or replaced. The printer also features an automatic cutter that can be easily replaced without the need for a technician visit.


Glossy or matte black ink


The C4000e is tailored to your specific media requirements and comes with gloss or matte black ink to help you produce crisp black text and rich images on a variety of print media.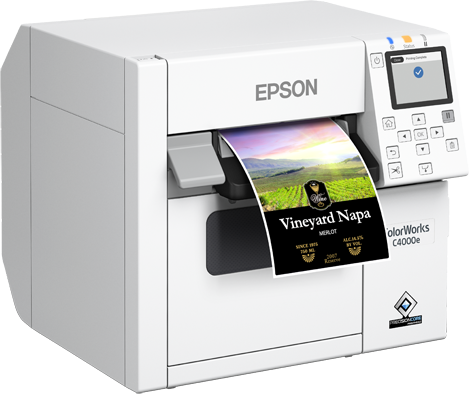 High print quality. Colour matching function and wide colour gamut
Easy operation. Easy setup and highly intuitive to use
Integration options. Seamlessly complements existing systems.
Hassle-free. Comprehensive CoverPlus warranty options
Glossy or matte black inks. Tailored to your media type