P-Touch label makers from Brother are ideal for marking and organisation in a wide variety of industrial, office and home environments. But do you know what all those letters in the titles of Brother's ribbon product lines mean? We're happy to explain it in this article and give you advice on which tapes to choose in relation to specific surfaces and applications.
Brother P-Touch label makers
Brother P-Touch labels are suitable for common cable, wire, and electrical box labeling, but also for organizing various items in offices or households, such as file folders, furniture, bins, or even DIY tools. You can choose between desktop or portable, with or without keyboard, with or without display, but there are definitely many to choose from.
So what are the types of tapes?
To be able to use the label makers to their full potential, we of course need to purchase tapes for them. They are all available in the form of cartridges that are inserted into the labelers. The tapes for Brother P-Touch label makers come in a variety of materials, sizes and colours, but they do have something in common, and that is that they have been specially designed and carefully tested to stand up to the toughest conditions. With excellent resistance to water, abrasion, chemicals, extreme temperatures, moisture and UV/sun light, these tapes will never let you down. Of course, you will find here original tapes from the official manufacturers, but there are also compatible tapes. These differ only in price, but their quality is just as unique. So let's introduce the product lines and their markings...
TZe/TZ series (standard)

Standard TZe and TZ tapes are the most commonly used and are used to print self-adhesive labels for marking on flat smooth surfaces. Unlike paper labels, these are very durable and will last for several years on flat surfaces.
They are suitable, for example, for marking shelves, furniture, computers and other electrical appliances. On surfaces such as metals, glass, plastic or cardboard they stick perfectly.
TZe-S/TZ-S series (strong adhesive)

TZe-S or TZ-S tapes are suitable for marking on textured surfaces thanks to their strong adhesive. Like the standard TZe/TZ labels, they are laminated and thus highly resistant to environmental influences.
TZe/TZ-FX series (flexible)


Is marking cables, pipes or other rounded objects your priority? Then this type of labels is for you. They are very flexible and laminated, making them suitable for electricians and other tradesmen. They adhere easily to round or otherwise uneven surfaces.
HSe series (shrink wrap)


Marked as HSe, these are shrink sleeves only and are suitable for marking cables. After printing, these tapes are applied to the cable and when heated with a heat gun, they shrink, so to speak, and attach to the cable.
TZe/TZ-SE series (sealing)

These tapes of the product line TZe/TZ-SE are so-called safety sealing tapes, after which the tape is peeled off, the tape is irreversibly damaged, after which it cannot be glued back on and it remains visible where the tape was applied.
TZe/TZ-FA series (iron-on)


With these tapes you will be able to decorate, for example, your T-shirt with a name tag. Simply iron the tape onto any clothing or textile using an iron.
HGe/HGeS series (high speed)


This type of tape is very similar to TZe/TZ tapes with standard adhesive and are equally suitable for flat and smooth surfaces. The only difference is the speed of printing symbols on the label, which is why Brother calls this type "high speed".
TZe-R series (textile ribbons)


Non-laminated textile ribbons with a velvety surface are marked as TZe-R. You can use these ribbons to decorate any gift or even craft product.
FLe series (flags)


Brother's FLe flag-shaped tapes are suitable for marking cables and wires. The cassette contains pre-cut unlaminated labels that are quick and easy to install.
Accoring to what else should you pick the right tape into your label maker?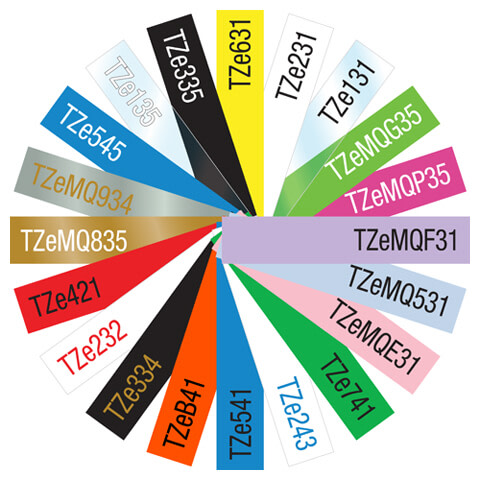 The most important parameter is how wide your label maker can print the tape. Tapes are available in widths of 6, 9, 12, 16, 18, 24 and 36 millimetres. So when you choose, focus on this aspect first and foremost.
The length of the printed labels can be set individually. The total length of the standard tapes is 8 metres, the HSe tapes measure 1.5 metres and the STe tapes measure 3 metres.
The second parameter is of course the colour of the particular tape. Each tape is designed to print labels with a specific colour on a specific background.
With the most commonly used TZe-231/TZ-231 tape you will print a label that will be printed with black text on a white background, and conversely with TZe-325/TZ-325 you will print a label with white text on a black background. But there are really many colour combinations, not just black and white. Among them, for example, there are also tapes with fluorescent colours marked as "signal" suitable for printing warning stickers. You can recognise these by the fact that the classic TZe/TZ marking is followed by the letter B, C or D. For example, the tape called TZe-C11/TZ-C11.
Tapes with metallic colours also form a separate group. These are identified by the TZe/TZ-M marking (e.g. TZe-M911/TZ-M911).
We hope that after our article you are a bit more familiar with the marking of Brother P-Touch labeling tapes. If you would like any advice on this or anything else, please do not hesitate to contact us. We will be happy to answer any questions you may have.