Choosing the right ink film or ink ribbon (card printer cartridge) for printing PVC cards can look complicated at first. In this article we will show you that it is easier than it seems.


Of course, it always depends on what you need to print and for what purpose.

1. Some people are happy with black and white printing and others require colour printing. What about you?
For less demanding uses, a black and white card may be sufficient. That is, a white card with black printing. If you only need black text or a barcode (or QR code), black ink foil will do. Sometimes also referred to as monochrome tape. The latter has the designation K (from the English blacK).
In case you want to print visitor, identification or loyalty cards, you will definitely want to use a colored image, photo or your logo. Then you need a coloured ink ribbon, which has the YMCK designation. Here again, the designations are taken from the English words Y=yellow, M=magenta, C=cyan and the familiar K=black.
By combining these 4 inks you can mix the entire color spectrum, just like in your regular home printer. The technology in 
PVC card printer
 allows you to print all the colours you need for full colour printing of your cards.
2. How many cards and which ones will you print?
All 
card ink films (ribbons)
 are designed for a specific number of cards. There is a specific type for each type of 
card printer
 and they cannot be interchanged. For smaller card printer models, the capacity is around 
100
 to 
200
 printed cards. For industrial models, there are also ink ribbons with significantly higher capacities (e.g. 1000 cards).
It is important to understand the number of cards one needs to print per day/month/year and choose the appropriate printer model accordingly. The right choice will then be reflected positively in the cost of card printing.
To avoid using the wrong ribbon in your printer and to reduce printer setup issues, most reputable manufacturers use an RFID chip. This electronic chip is placed in the ink ribbon and the printer automatically detects the ribbon and sets all the necessary printing parameters


Not only for dye ribbon, but also for plastic cards, it is always important to choose the right type for your card printer.
3. Protective layer? What is it?
If your card is not to be used only for short-term use, it is worth investing in a so-called protective layer / protective tape. In English Overlay = the letter "O" in the ribbon designation, i.e. YMCKO.
Why use YMCKO tape?
It is a protective layer that is applied over the print and thus protects it against colour fading and also partially against mechanical damage to the print. It also helps against card forgery.
If you want to preserve the bright colors of your cards, then YMCKO ink tape is the best solution for you. At the same time, it is currently the most widely used type for card printing.
4. Single-sided or double-sided printing?
Is it enough to print only one side of the card? Then you can make do with the above-mentioned one-colour/monochrome tape, YMCK tape or YMCKO tape (overlay).
Do you want to be demanding and print both sides? If both sides are to be colored, you use YMCK or YMCKO tape on one side first, then flip the cards over and print the other side.
What if the back is just going to have, for example, a barcode, expiration date, or some other indication for which black is sufficient? Use YMCKOK p​e​r tape, which includes 6 color panels. Compared to other tapes, it also contains a second K (blacK) section for printing black text, barcodes, etc...
In some card printers, it is possible to use the part of the ribbon for color printing of the first side and the black part for printing of the second side. Not all printers support this.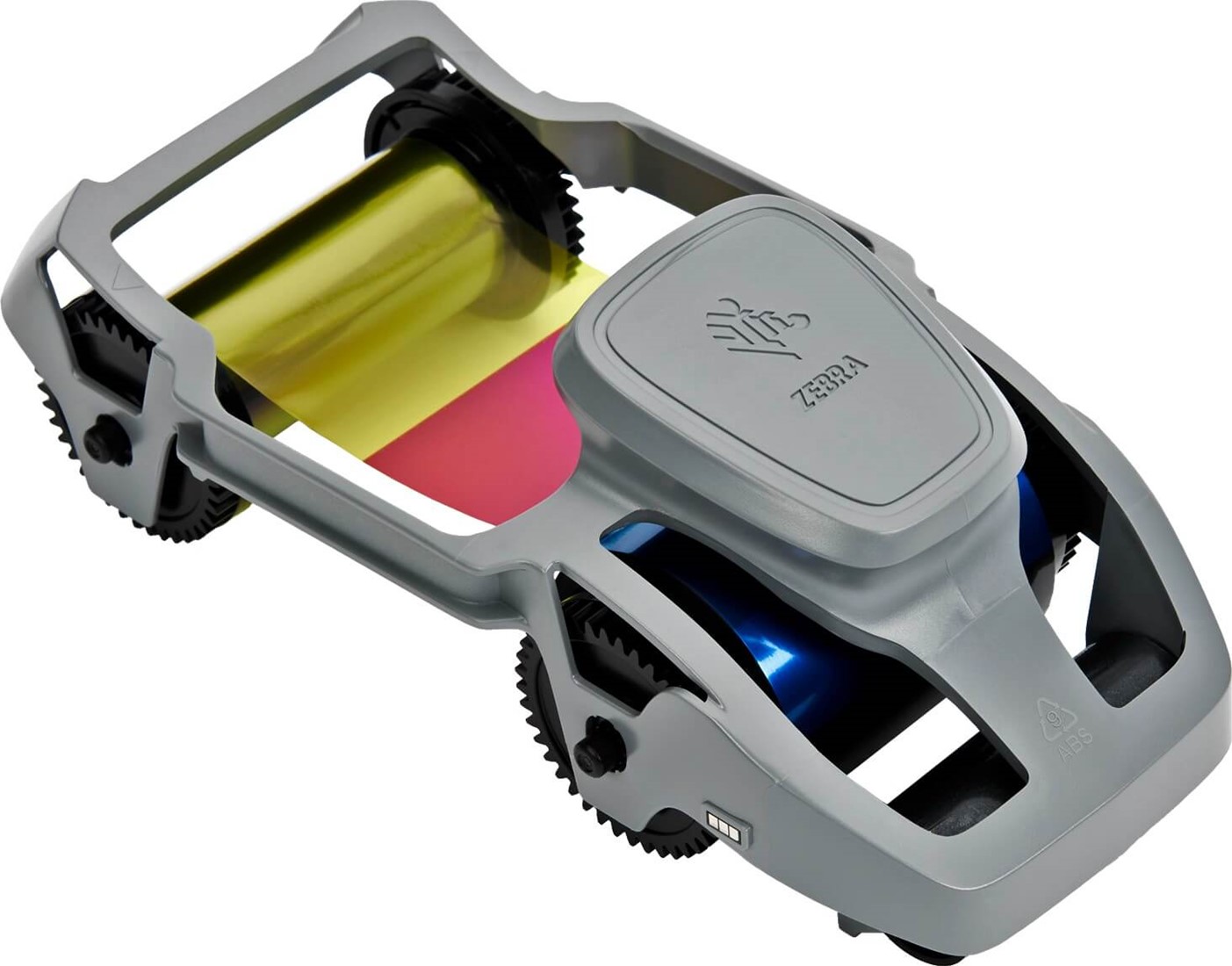 5. Summary of colour ribbons

One-colour ribbons or monochrome ribbons. These are mostly black (K), but are also available in other primary colors.
YMCK ribbons - 4-color ribbons for full-color printing of photographs and images. They do not have a protective layer and are suitable for short-term use.
YMCKO ribbons - 4-colour ribbons for full-colour printing of photos and images. They contain a protective layer (overlays) and are suitable for long-term use (up to 2 years).
YMCKOK ribbons - 4-colour ribbons for full-colour printing of photos and images. They contain a protective layer (overwrap) and are suitable for long-term use (up to 2 years). They contain an additional black component for printing the other side of the card.