Brother is one of the world's leading companies in its field. The company has reliable scanners, handy label printers and also first-class inkjet or laser printers with several useful features. It's no surprise then that printers from this respected brand are able to win prestigious international awards on a regular basis, despite huge competition.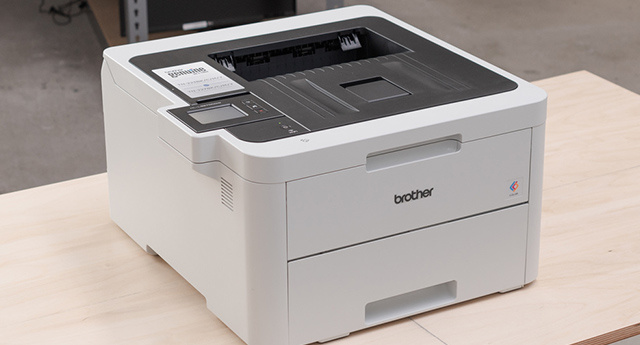 Brother inkjet and laser printers grab attention every step of the way
Among the awards received by the company, it is worth mentioning the IF Design Award 2019, which was awarded for exceptional design to two devices from the Brother product portfolio. In the first case, it was the HL-L3270CDW colour laser printer, and in the second, a label printer from the popular P-Touch range.
However, Brother devices not only look good, but along with toners, they can deliver professional print quality. Of course, no matter what printing technology they use. So whether it's inkjet printers or laser printers, you can be sure that these products can withstand even the most stringent criteria and will always be on your side when it comes to personal or business tasks. Efficiency is naturally supported by both the hardware and software of the printers. And that's one of the main reasons why Brother laser and inkjet printers don't just stop at design awards.
Brother laser and inkjet printers impress with performance and other parameters
The flawless, reliable performance of Brother printers, user-friendliness, ease of use and last but not least the mentioned efficiency of work in a business or home environment could not miss the lay, but also the professional public, so more Brother devices can boast not only excellent reviews, but also awards from BLI, which is the world's leading authority when it comes to hardware, software and device services.
Not to be outdone, the MFC-J6947DW colour inkjet MFP won the 'Outstanding A3 All-in-One Printer' category and the Winter 2019 Pick Award. The professional, multifunction printer represents reliable models for duplex printing, copying, scanning and faxing up to A3 size, all in the most demanding business or office environment.
Of course, when introducing devices from the Brother portfolio, we can't leave out other interesting model series of printers, so let's see what options we have to choose from. We can stop right at the inkjet printers.
Inkjet printers score not only by price and size
The inkjet printers will delight you with their attractive price, print reliability, compact size and high resolution. As we have already indicated above, the Brother range includes inkjet printers suitable for printing family colour photos, but also devices that can cope with high-volume printing of corporate documents.
A home or small office with three or four employees doesn't typically print hundreds or thousands of documents. Therefore, for occasional printing of school projects or a few pages of invoices a day, a DCP inkjet multifunction may be quite sufficient. DCP printer models save time, cost and desk space. As well as high quality, crisp printing, they also offer scanning and copying, but if faxing is on your list of requirements, you'll need to reach for MFC printer models.
The MFC inkjet printer models can handle both normal and heavy-duty printing of a wide variety of documents, so they can be deployed in the demanding environment of large offices and businesses. We don't have to go far for examples of specific devices, just think of the winning MFC-J6947DW inkjet multifunction above.
Brother laser printers are simply impossible to miss
Laser printers with both classic and LED printing technology are certainly not devices that we can afford to overlook. But now we are not referring to their hilarious design. Rather, we're referring to the fact that these devices can play their role perfectly well not only in an office or business environment, but also in the home, and therefore deserve due consideration when choosing a new printer.
The labelling of laser multifunction printers is, in part, very similar to that of inkjet devices. In practice, this means that buying a DCP laser multifunction printer will give you a device that allows you to print, scan and copy documents, and in the case of an MFC model you will also be able to fax documents.
Naturally, the range of laser multifunction printers is much more varied and doesn't just stop at this criterion. So when choosing, you can opt for a colour laser multifunction that's designed to produce eye-catching documents with clear, crisp text, or you can opt to buy a quiet HL mono laser printer, which will take care of cost-effective black and white document printing and is the ideal choice for larger offices and businesses with high volume print requirements.